How the Swiss cheese model can help avoid reaching the catastrophe bifurcation point


Intracare portfolio explained
The recent global outbreaks of African Swine Fever (ASF) and local outbreaks of Avian Influenza (AI) underlines the delicate balance of our modern livestock industry. Even a small misbalance in farm biosecurity, animal immunity and/or available treatments may result in devastating consequences for an entire sector. Scientific models from other research fields are powerful tools to rethink our current practices and may provide new insights. Three important steps to prevent the outbreak of endemic diseases are 1) reduce infection pressure, 2) stimulate immunity, and 3) mtreat diseased animals. These aspects are embedded in the Intracare portfolio to avoid reaching the catastrophe bifurcation point.
In outdoor dairy farming, it is common practice to not overcrowd the pastures in order to keep the fields green and fertile. Imagine for example a green field with 99 peacefully grazing cows. The addition of one single cow may result in overgrazing, turning the green pastures into a desert-like landscape (Figure 1). In order to restore the green fields, it will not be enough to remove that single last-added cow, but it may be necessary to reduce the herd with as much as 20 animals muntil the vegetation regains sufficient capacity to restore itself. How such small changes in circumstances may lead to sudden and dramatic consequences such as the ecological collapse is described by "the catastrophe bifurcation theory" that was composed in the 1970s by mathematicians René Frédéric Thom and Erik Christopher Zeeman.

Figure 1. Overgrazing as a practical illustration of the catastrophe theory.
While in dairy farming cows may have relatively much square meters to move around, the efficient use of space is an important economic factor in the intensive livestock industry, where pigs and poultry are housed on a more confined area. Already in 1991, Cravener and colleagues investigated broiler production under four different stocking densities. They found that feed conversion rates were comparable for all groups, but birds at the highest stocking density had a lower body and carcass weight suggesting stress, and a higher percentage of breast blisters and foot pad dermatitis. This illustrates ,that high-density monocultures are more vulnerable to catastrophe bifurcations and it thus requires more effort to maintain optimal circumstances in order to prevent the outbreak of diseases.
Also the current unprecedented growth of our cities (being monocultures of humans) is only possible due to the persistent supply of food and clean drinking water, and continuous cleaning and removal of waste products (garbage and sewerage). ,However, the most modern cities have been terrible places to live in the past due to the uncontrolled disposal of waste products and the related outbreak of diseases (Figure 2). Even nowadays some big cities are experiencing challenges with waste removal and air pollution, and the rapid spread of Covid-19 illustrates the vulnerability of the system.

Figure 2. Waste disposal in cities (left) in contrast to the cleanliness of a modern city like Tokyo (right).
In summary, when high-performing monocultures are economically necessary, like in our current intensive livestock rearing
industry, we will need to invest time and money to prevent the occurrence of catastrophe bifurcations.
Three important actions to prevent the outbreak of endemic diseases are:
1 Reduce (external) infection pressure by proper cleaning and disinfection of the environment of an animal (housing, transport vehicles, equipment, etc.) including the availability of clean (sanitized) drinking water. The Intra Hygiene program contains proven tools for optimal biosecurity.
2 Stimulate the natural immune system of an animal by providing the optimal amount of nutrients at the desired moment in life. The Intra Nutrient program of drinking water-based supplements is dedicated to immune, metabolic and health support.
3 Immediately cure ill animals by the application of appropriate veterinary medicines to individual cases. Intra Hoof-fit and
Intra Dysovinol are dominant non-antibiotic products to treat diseases. The Intracare product & innovation portfolio covers these three important aspects for all intensively-reared livestock species and thereby supports the health status of these animals. A proper application of the products at the right moment in time prevents the outbreak of diseases and thus enables the farm manager to avoid reaching its catastrophe bifurcation point.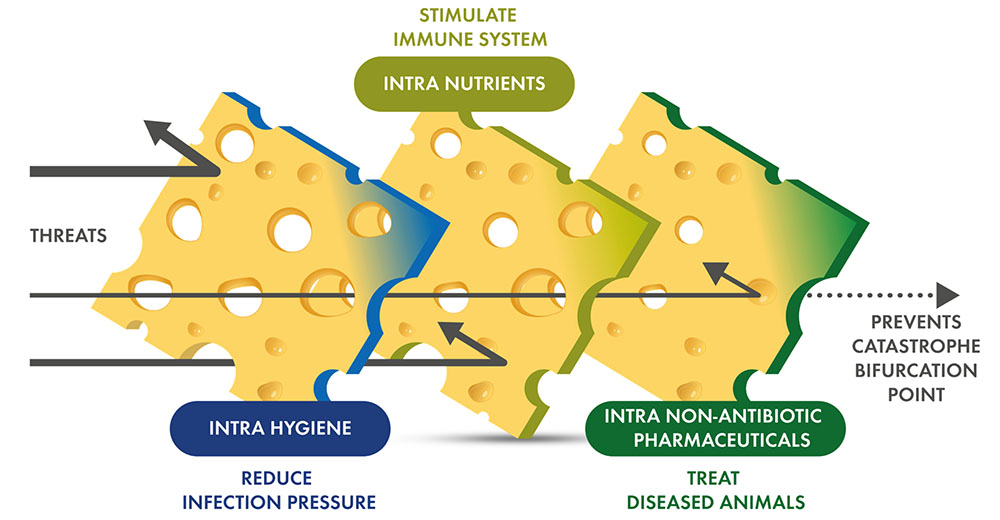 Figure 3. Swiss cheese model illustrating how to avoid reaching the catastrophe bifurcation point with the Intracare programme.
This concept is illustrated with "the Swiss cheese model" that has been developed in risk management to visualize factors that may cause an accident (Figure 3). The constant threats from different directions have to be blocked on each level in order to avoid the final event of a catastrophe bifurcation, like for example the outbreak of Avian Influenza or African Swine Fever. The Intracare program guarantees the farmer maximum security.
References
Cravener TL, Roush WB, Mashaly MM. Broiler production under varying population densities. Poult Sci. 1992
Mar;71(3):427-33.
Reason, James (1990-04-12). "The Contribution of Latent Human Failures to the Breakdown of Complex Systems".
Philosophical Transactions of the Royal Society of London. Series B, Biological Sciences. 327 (1241): 475–484.